Crypto regulations in 2021 - best comments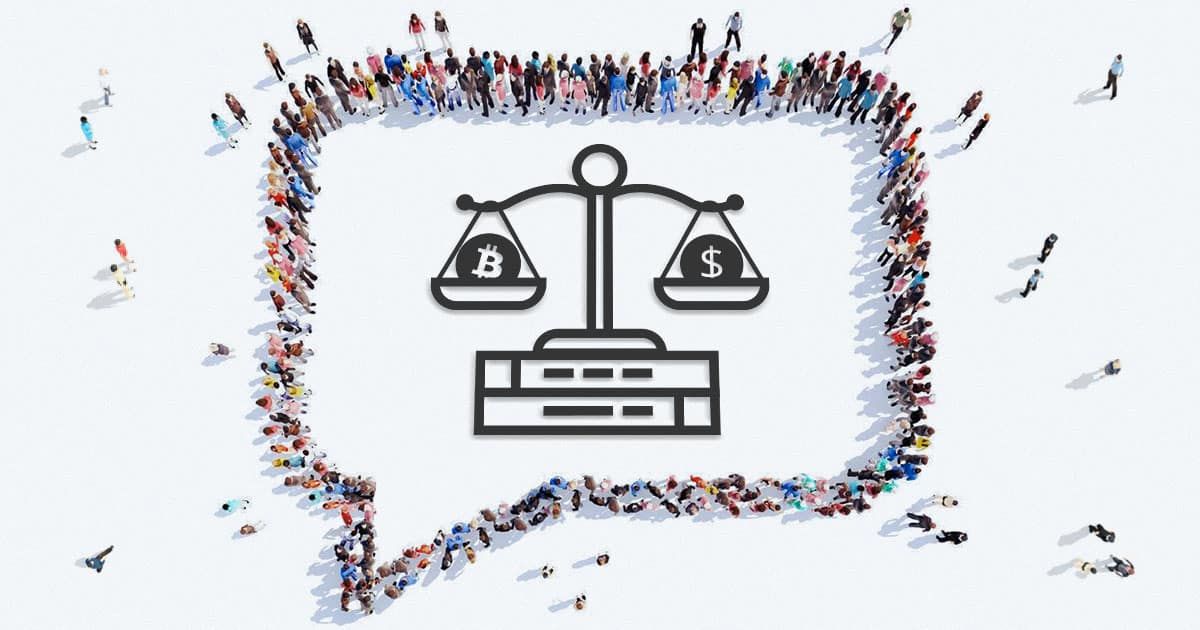 The previous year brought a lot of exciting news for the crypto market in technology (Halving, ETH 2.0) and investment (MicroStrategy, PayPal). It was expected that regulators wouldn't passively watch and will enter the action. It looks like we'll see more news about crypto regulations in 2021. Therefore, I asked the Experty community members (from experts to regular crypto participants) how legislative matters can affect the crypto market in 2021 and then I selected a few interesting opinions.
If you follow what is happening in the crypto world and would like to discover exclusive content, click here.
In short
An increase in trade volume and price will bring in institutional money. More institutional capital will bring more rules to the table.

Why are institutions now getting in on the Bitcoin hype?
Simple, people want to trade it and there is a demand for it. For example, in 2020 Square's Cash App generated $875 million of bitcoin revenue and $17 million of bitcoin gross profit: https://news.bitcoin.com/cash-app-bitcoin-revenue-billion-square/. Compared to 2019 Cash App saw an increase of 11x in Bitcoin sales in its native app. So why did PayPal announce to support Bitcoin in 2020 October? Because there's money to be made and PayPal was missing out on the action due to previous regulatory concerns. Even incumbents want to get in the crypto action. Investment bank Morgan Stanley acquired 792,627 shares in MicroStrategy. The investment represents a 10.9% stake in a firm that has made massive investments in Bitcoin over the past several months. MicroStrategy Inc. has bought over 70,470BTC as reported in https://bitcointreasuries.org/

What's changed?
Nothing really, regulations may have decided to tax earnings from Bitcoin or Crypto sales, but not much more in the sense of guidance for the asset class in general. On January 11, 2021, industry analysts estimated a 42-33% drop quarterly profit decline: https://www.reuters.com/article/us-usa-banks-results-preview/us-bank-quarterly-profits-expected-to-fall-again-from-pre-covid-levels-idUSKBN29G148 However, Binance, The World's Largest Exchange, announced that they expected to make $1 Billion in Profits in 2020. Go figure, no wonder everyone wants to provide crypto-related services.

What about regulations?
US Treasury unveils stifling Crypto Wallet regulations on 19 Dec. 2020. They want to strengthen AML regulations for users. We're going to see a lot more tightening in how crypto is dealt with. Not only does the Financial institutions care about making money, so does the government. They want to make sure to tax everyone and control AML issues. For a Bitcoin Maximalist like me, I dislike where the industry is heading now. More regulations and control for the very thing that decentralized finance was supposed to bring. The taste of freedom from centralized financial policies. But with a taste for profit, I'm guessing regulations won't be going anywhere, and there will be more money flowed into the industry.

What about decentralization?
The industry will grow more, but at what cost for those who stuck around from the beginning. Guess this is a growing pain for everyone in the industry who dreamed of non-sovereign decentralized money; everyone needs to grow up one day right? This is the start of the big payday everyone so dreamed of, the engagement of institutions. Who are we to blame if the very thing we wanted is now becoming a reality? I guess some of us were too naive to think that the governments would lay down, roll over, and play dead in front of decentralized money like Crypto. The regulation for all that is crypto has now started, guess who stayed faithful can wipe away our tears with the load of cash that we have now.
I think the regulators can play the "empire strikes back" role. The SEC Vs. Ripple sounds like a relief for crypto purists because of the lack of decentralization in XRP, and it was considered not a real cryptocurrency. But what if the SEC starts chasing Ethereum? I know the former SEC chief in an interview waived Ethereum from any allegation of being a security, but check his words here: https://www.sec.gov/news/speech/speech-hinman-061418

" ...putting aside the fundraising that accompanied the creation of Ether, based on my understanding of the present state of Ether, the Ethereum network and its decentralized structure, current offers and sales of Ether are not securities transactions"

That "putting aside" sounds pretty ambiguous, so is the SEC still looming on Ethereum too?! It is more a question rather than an answer, but questioning Ethereum and its ecosystem today would be like taking down all the crypto industry. Regulators want regulate and cryptocurrencies are born for not being regulated, so the clash is always latent and possible.
Regulations will certainly slow the growth of any new hyper-growth industry. The difference in crypto, however, is that the technology transcends any one centralized party's ability to police who does what. Moreover, there is a disconnect between what the legislators understand in regards to the technological aspects and what goes into the letter of the law. Most who are deeply involved in crypto anticipate that crypto assets will continually be misunderstood by regulating bodies and it'll be too difficult for legislators at first to accurately govern this extremely new (and technical) industry. This will result in unrealistic policies for consumers to operate under and will either push people further away from regulatory bodies or conversely force the regulators themselves to iterate on their policy to reduce the burden on consumers. Especially when you have multiple regulatory bodies claiming jurisdiction.

What does this mean in terms of growth?
In my opinion, the more pressure regulators put on compliance, the more adoption we'll see in the digital asset markets. Of course, the knee-jerk reaction by the market will likely be a "sell the news" event, but there's a lot of demand waiting to capitalize on such a pullback and the temporary pullback will likely kick off the next leg higher. This happens in markets time and time again. Volatile markets flush out weak hands and the ones who are patient are the ones who are rewarded the most.
I believe the crypto regulation is more to be seen as a constant process. I don't believe that this year will set the course for this topic on a global scale. Blockchain and cryptocurrencies are in constant change / evolution and regulation will always be behind and in addition, big differences on a national or union level will stay for years.

Therefore, as long as there is no complete ban with heavy sanctions or similar established in any of the key economies, I think the influence is not as big as we think. And even in such an extreme case, money flow will find its way (when we look at the regulations in China).

So, all in all, I think that news on the regulatory side (if they are not radical vs. the as-is) has a certain short-term effect on the crypto markets but they are not real drivers or the opposite for the overall growth.
While I do think regulation flies in the face of the original concept of cryptocurrency (which has mostly died anyway since a few years ago) I do think it will help with adoption and growth in terms of market cap. This is mostly because regulation allows easy access to traditional finance and institutional investors. Sadly, many people still have a very outdated concept of money. I hope that increased crypto adoption, even if it's a watered-down government-approved version will eventually lead to more people waking up and realizing that the government, banks, or financial institutions have no business controlling your currency. Currency is a matter of the people or should be. Cryptocurrency can enable a fairer, more equal economy, and even a frictionless worldwide economy. People don't seem to understand that, it may take a few more decades for people to wake up to this fact.

The next few years or decades can be crucial for how the world sees finance/currencies for potentially the next few centuries. The central banks, governments, and traditional financial institutions do not want to give up their control over the people's wealth, as giving up this control means giving up a lot of power.

Most people are uneducated on the topic of money and do not understand what money even is and how the economy works. Therefore, they don't see the true potential of cryptocurrency and how it could affect them. Cryptocurrency, in its purest form, is merely a building block or at least a stepping stone for building a fairer world. But only if we as a society can manage to avoid it being yet another tool for the financial institutions to control us. If used incorrectly, cryptocurrency may end up decreasing financial privacy, and increasing government / institutional control over money, which would be a very bad thing. However, if people are educated about money and exercise their rights, cryptocurrency can enable an economy of the people. We can decouple the economy from the government and institutions, while still having checks and balances in place.
It will take some time (a couple of years) before a common regulatory definition of cryptos form governments in terms of the declaration of ownership by citizens. No government can have access directly to the source so they can only contrast the ownership (fines in case of missing declaration and so on).

The effect however will be a lack of trust in governments due to the increasing lack of credibility. Events as the polarization of politics will always increase more. I think that cryptos will grow more in the next 3-4 Year at least as a reaction to this instability. Whales are always looking for greater gains that the real economy is no longer able to give.

An exception could be China thanks to its iron fist and pervasive control of the economy and real life.
The regulations will stimulate growth. In order for the money that exists in some of the larger sectors of the financial ecosystem to come into the cryptocurrency sector, certain laws and regulations need to be put in place so that it is legally permissible. And the greater portion of the general public will wait until the government grants its "permission," which is usually done through laws and regulations.
The cryptocurrency space has basically been the wild west ever since. In my opinion, we do need some regulations to protect newbies. Furthermore, many big players/funds will actually invest more in cryptocurrencies when we have regulations. So yes - I do think it will be a good thing overall for crypto-space.
What really worries me is the rapid adoption by institutions and the private sector making massive purchases of a deflationary asset such as bitcoin, if the giants like Apple, Amazon, or Alphabet decide to enter officially, they can end all the supply, this could not be positive for the crypto community. With the arrival of money from institutions, the value of bitcoin will continue to increase, even I believe that the very fact of trying to regulate it will also end up focusing the attention of the mainstream thus producing a worldwide massive adoption. We just finished 2020 and bitcoin has only hit all-time highs. We'll see what this new cycle holds. The supply can be affected if institutional money comes in a massive way like MicroStrategy or Square did for example.

The average human is unaware of the true value behind bitcoin technology, even large institutions took at least 10 years to understand how important it is. When I say affect negatively, it is that the moment the average human wants to be part of it may be at a time when these institutions have much greater control. As of today, of the 18.6 million bitcoins mined (excluding those lost or stolen) in the last year, institutions took 22% of it, who knows in a greater range of time than they are capable of.
For the current crypto investors, it might add a few hurdles, but they will be minor in my opinion. It's a net positive in that it will bring more investors to the market, and retail investors at that, so a lot of new liquidity. I expect that retail institutions will do most of the churning from that point on.
If we compare the achievement of the current ATH with 2017's one, now the inflow of new users into the crypto is very small. The indicator that determines this for me is the exchange rate of bitcoin for fiat currencies. In 2017, the withdrawal to fiat was at the rate of + 3% (so you were getting more USD than actually should), now the rate is -3% (so you should pay more BTC to get the desired amount of USD), i.e. private exchangers have a shortage of FIAT currencies due to the small number of people willing to buy bitcoin. Although there are now ways to deposit and withdraw fiat currencies from credit cards directly, for example, on the Binance exchange, many people do not use them, because, in their countries, there is no clear regulation of cryptocurrencies and banks, as well as tax services, may have questions about these transfers. People are willing to pay taxes on income from cryptocurrency trading, but there is no clear taxation system. If we come to clear regulation in terms of taxes, such as in the stock market, then the cryptosphere will attract more responsible users and we will move in the right direction even faster.
BTC hits ATH for several weeks now, a bit earlier than expected that leads me to one conclusion, BTC market is entering a phase of peaks, were a correction of high volume will occur in a month or two, dropping to set a bear trap and rising to a new ATH driven by a rampage of a wild herd of BULLs, setting a just value to BTC, until next Halving! PayPal has no option than to adapt to economic evolution. FIAT currencies are doomed to reshape their shelves due to the current pandemic domino effect. As before, regulations came closer to the GOAL, due to the domino effect of the current COVID-19 pandemic, as the currency is needed to trade, but the virus is transmissible throw objects as FIAT money is.

A CBDC is a real promising option, but apart from China, the rest of the world countries are years away from developing the right protocol and testing it. The closest solution in sight is already in motion and proving its worth and power since it reached the SEC eyes, is BTC and a few other selective Blockchains. On which, a swift and fast move, by governing authorities, is life-saving for commerce and their Citizens.
In my opinion, it is not going to stop the growth, the cryptographic market is small if we compare it with other global markets such as the stock market or the forex market, I think that the regulation will encourage the entry of capital from investors and will give more transparency and clarity.
Whatever bitcoin may or not have accomplished in its decade of existence, it has forced a lot of big, global entities to think about offering an international digital currency.Every company involved in the payment space understands not only that there is a market for digital payments still up for grabs, but that payments involving different currency markets have the most potential. That's because currently, such transactions can take days to resolve, and often involve hefty fees.

Bitcoin has demonstrated, if embryonically, that a global digital currency can dramatically streamline that process. This year, both Facebook and Google — companies with a massive global reach that bitcoin can only dream of — moved forward with big digital currency plans.

Tech offerings like Facebook's Diem aren't exactly the same as bitcoin, but if they start to catch on in 2021, they may eat a little into bitcoin's growth. This structure needs urgently to find a solution for scammers and fake altcoins. It's not impossible but is the structure that will keep people safe without losing money should be created. Because when people start losing, they start to hate it. The way of payment in the world needs a change and Bitcoin is changing that system.

I think it will be altcoins, not regulations that will down the bitcoin.
Cryptos are not subject to and should not be subjected to regulations whatsoever. Governments should allow people in their respective countries to use cryptos like normal currency and apply tax while buying goods and services just like the way they use FIAT currencies. This will help boost local economies like never before and the banks will be happy too. People will exchange their cryptos for local fiat and bring growth to those countries.

On the other hand, should the governments start regulating cryptos, that will hinder growth immensely. In my observation, when governments would announce a crackdown on crypto mining companies or exchanges in their countries, it would have an immediate effect on the crypto growth.

Instead of the banking institutions fearing cryptos and trying to hamper growth thereof, they should open a crypto exchange in their respective branches and they will see growth like never before. Countries like Germany where Bitcoin has been accepted and can be used to buy goods and services will experience great growth because all the money held up in Bitcoins can now flow into their economy. Cryptos are and will always be more secure than FIAT.
The regulations will only create a bigger barrier to the crypto space. It's like having a highway and putting stops on it and asking: "Is passing from here is okay?" Imagine how much time and money they will lose to regulate an upcoming industry. I believe regulations just need to put easy rules until further development.
In the US the SEC rules all assets both buying, selling, and trading. We were and possibly still are the world's economic engine but all the red tape just slows everything down. In reality, all the US wants is the taxes paid on all profits made anywhere in the world. Look how long it took Binance.US to get SEC and state approval. Cryptos are just a commodity but what makes them special is the ability to keep the middleman out of a transaction. That's why they are so valuable. No government or company gets their cut of the deal. Credit cards get a very small % of all transactions. Governments collect taxes. ETC. I hate big government and regulations but we are stuck in reality. Long term the regulations will increase crypto growth because institutional money will flow in the big-time but short term it's going to be a very, very bumpy, volatile ride. Keep buying, diversify, trade if you wish but buckle up...enjoy the ride but expect to get battered and bruised...it will be worth it long term.
The industry is already consolidating billions of dollars, and in order to control the origin and circulation of these funds, regulators of each country are introducing a variety of legal norms that only exacerbate the attitude towards cryptocurrencies. Due to the versatility and complexity of the blockchain, there are very few really useful and successful projects in this area. In the future, the development of cryptocurrencies will lead to absolute transparency of financial relations. Blockchain in the concept of a decentralized storage network is the clear future of Bitcoin and Ethereum. And all the innovations will begin to be felt with the development of narrow-industry tokens. They will become the connecting link in the transition to a new stage of "global economic evolution".
I don't really think it's a regulation breakthrough. It's more like adoption. I think that the more big players are in the game the more we (normal investors) have to fear. If just 1 of the top 10 whales would decide to sell their coins, then the price would massively drop, and what if the other big players sell crypto assets? They won't be able to do so because of the small liquidity to dumb it even more.
Feel free to send us any comments, questions, reports, or bright ideas. Let's talk on Facebook Community Group.
At Experty our mission is to build a community full of contributors, experts, and users that will help us democratize worldwide DeFi knowledge and information exchange.

Would you take the journey with us?
Please Do Your Own Research always! We are not financial advisors, any information provided in this article is not intended as investment or financial advice. It is merely information based upon our own experiences. The information we present is of a general nature and should merely be used as a place to start your own research and you definitely should conduct your own due diligence. You should seek professional investment or financial advice before making any decisions.